Hi friends, welcome back again for the third and final article for today.
As I was mentioning in the first article, yesterday has been a mixed day, with one HYIP scamming, and one article published yesterday creating some discomfort among a few investor friends. Well i am referring to 'Midas Investment Centre Scam Complains!! [Investor Submission]' the complain I published yesterday.
Well after publishing the scam alert against Midas Investment Centre a section of investor friends, who are still getting paid from Midas Investment Centre got a bit disappointed with me, for reporting the complain.
They perceived the issue , as being one isolated one and blamed me for damaging a HYIP based on a single isolated incident.
Well with full respect to their concerns, I do not think blaming me for reporting a dishonest action by Midas Investment Centre admin was quite justified on me. Anyway, i have replied to all their comments, you can check them out in the comments section of this post [Link]
Now, let me be transparent about a few points, that i have already explained to the investor friends who were dissatisfied with me for posting the Midas Investment Centre complain.

1. I follow a 'Zero Tolerance' to the matters of selective payouts, stealing of deposits etc.
2. If any investor complains to me with valid proofs, i will post their complains and take action as swiftly as possible.
3. I do not have any special interest on midas investment centre, it's not that big a program.
4. Do not blame me, for damaging any HYIP. I have a responsibility towards investors, and if they face some problem, i have to report them.
5.The onus solely lies on the midas investment centre admin himself/herself. The midas investment centre admin could have easily solved the issue by crediting investor's account instead of telling utter lies.
5. Lastly, few investor friends who are being paid by this midas investment centre had accused me for being judgemental and over-reacting to a single complain against midas investment centre.
Well, I guess they have not even checked the most popular of the forums. Now, let us look at what other investors are saying about midas investment centre at MMG [MoneyMakerGroup]
Below you can check the screenshots of some other complains of pending payouts against midas investment centre: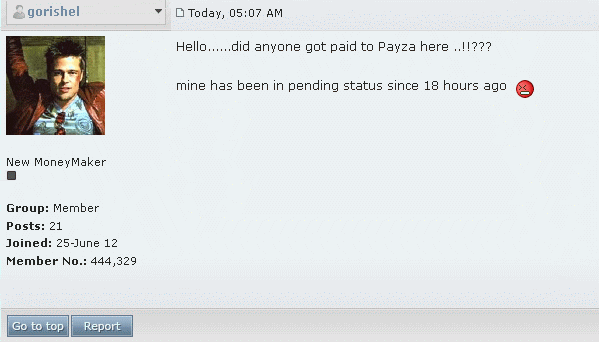 Link to the complain : http://www.moneymakergroup.com/Midas-Investment-Centre-t410064.html&st=75
Complain #2
Link to the complain : http://www.moneymakergroup.com/Midas-Investment-Centre-t410064.html&st=60
Complain #3
Link to the complain : http://www.moneymakergroup.com/Midas-Investment-Centre-t410064.html&st=30
Well, friends, so I guess you understand i do not publish scam alerts without doing adequate research.
To end this article, i would to like to state again, the primary reason behind my initiative to publish complain from investors [which are verified] is to bring the complain of the actual investors to light, so that they actually have a voice. I guess, all of you agree with me, most of the times the complains from the actual investors get suppressed in the forums by posting of payment proofs by some useless HYIP monitors and paid posters

Payouts For 5/7/12
NewGNi, ,Silver Structure,MetalROI, One Investment , PrimeXCash, DK Petroleum , Invest Concept , Ivecon , Development Atlantic and I-Can-Invest

Payouts From High Return HYIPs : aprofit.us ,PerfectROI and GlobalOilFund and PinkMoney
Others : JSS-Tripler

Games : Lottery Allworldhyip
New Program Joined :
PinkMoney : Investment Plans – 104% – 125% after 1 day,122% – 200% after 5 days,150% – 400% after 10 days,1000% after 15 days E-currencies – LibertyReserve, PerfectMoney. Script – Licensed Goldcoder's Launch date – 1/2/2012. payouts – manual, SSL encrypted, Ddos protected. [Monitor Link]

Amanah : Investment Plans – 6.5%-7.5% daily for 20 calendar days . Accepted E-currencies – LibertyReserve, PerfectMoney Launch date – 3/7/2012, payouts – Instant, Script – Licensed Goldcoder's, Ddos protected[Monitor Link]
Besed upon the complains made by Investor Jack regarding his pending payouts, the short term high return HYIP, Neoprofits has been demoted to Problem Status [ Monitor Link] . Well, single selective payout by a HYIP is certainly the 'Surest sign' of an impending scam. There any investment at Neoprofits is not recommended.
Please check with our monitoring page before investing.
Share and Enjoy