Hi friends Good Morning and warm welcome back to hyipingmoney.org.
Well, yesterday night I have again experienced an assault for posting the scam alerts against chokopower, and continuing my fight against those lowlife 'Fake paid posters.
Let us first, begin with some good news – after a two day long 'War of words' with the 'fake paid poster' Swatello – finally I have compelled this moron to write a formal apology mail to investor Badran , for all his misconduct against investor Badran at the chokopower thread.
As always, i would keep the matters as transparent as possible, and leave the decision on investor friends.
You can check out the actual tussle between me and this paid poster and trumpeter – here.
investor Badran has informed me, he has actually received the apology mail from Swatello.
Below you can read the apology mail from Swatello [ A bit hard to comprehend his English]
Hello Dear. I want to sorry if I not clearly answer when you invested
to Chokopower.
Also Chokopower it is a scam you and me and many others members.
Please read carefully about hyips, because if you investing $200-$1000
everything is fine and when you investing 5k he don't pay to you.
The last portion of the apology mail is certainly false – he had no actual deposits at chokopower, but a bonus gifted by the chokopower scammer. [ Let me make very clear to all - I have no interest in what his arrangement with chokopower scammer is, my personal grudge against this guy is solely for his misconduct towards investor Badran and other HYIP investors , posting payment proofs, when chokopower was actually carrying out selective payouts (not paying to bigger investors), with the sole intention to scam some more investors .]
Moving on let us now concentrate on what happened yesterday night. Swatello, the fake paid poster was probably unable to take my repeated assaults against him,  decided to desanitize the blog shoutbox with some lousy attacks on me. Ahh well, i am never a shy guy, i replied to him , in a manner the fake paid posters deserve.
In this article i would like to place the insulting comments boasted on me, by the 5$ poster Swatello, and will give my answers to each of them, too let the investors be completely aware of them.
The moron Swatello stated about me-
Many members can see that you are really bad man and attack investors without any proofs. Why you have a Warning Level on TalkGold ?
 My Answer to this lowlife :
Well, yes its true , that when I posted a scam alert against a hyip promoted by compulsive scammer like Swatello, i did receive a warning from TalkGold for making personal attacks.
Below you can check out the screenshot of my comment for which i received a caution at TalkGold: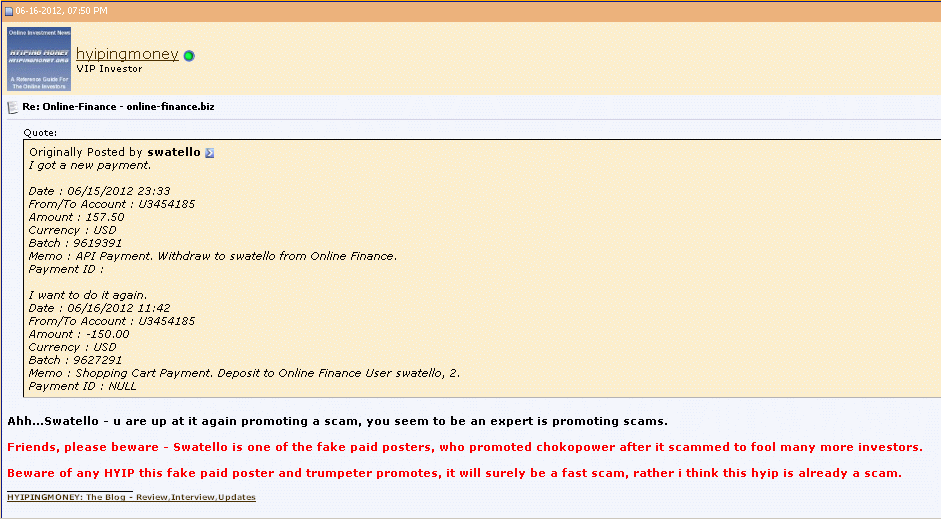 And here is the caution i received From TalkGold :
Dear hyipingmoney,

You have been warned for one of your posts, which violated Talkgold HYIP, Investment & Money Forum Rules. The reason you have been warned is because :

Personal Attacks on other members are not tolerated
(Warning Type = 'Personal Attacks')

For this violation, you have been given 1 point(s).
The point(s) will remain in your account for 30 days.
After that, they will be removed automatically.
Now friends, what do you think – i care a dime about a caution from talkgold? – My answer is 'HELL NO'
No matter how many cautions i receive, i will continue to fight against this group of 'paid posters' who misbehaved/insulted investors, suppressed their complains and tried to promote a HYIP when it was already carrying out selective payouts.
Second comment from moron Swatello -
Note that you have insulted me, and I'm not you. And I did not say nothing to nobody abusive past.
My Answer to this lowlife :
yes Swatello i did intentionally insult/abuse you to teach you a lesson. And honestly I have no remorse for insulting you. [A creature who abuse others, deserve the same]. You can do whatever you like – ddos attack the blog or whatever  you want. Now I guess,you understand how investor Badran felt, when u misbehaved with him.
Third accusation made by Swatello against me -
Also you get referral commission from Choko Admin when Investor Badran made a deposit ? Isn't it ?
My Answer to this lowlife :
As i have mentioned several times before, i refused to take a single penny from chokopower scammer, even returned the banner advertisement fees back to chokopower administrator, leave aside the referral commissions  – so that the scammer admin pays back investor Badran, at least his principal.
Fourth accusation made by Swatello against me -
Admin of Online Finance don't want to buy advertising in your blog or what ?
My Answer to this lowlife :
Please understand, i am not bragging, but by virtue of being a Doctor, who practises Internal Medicine and Cardiology  – If  i want i can create 4 to 5 cheap hyips like online finance with my offline earning.[I have nothing against online finance though]
I even gave Swatello the option – instead of licking scammer administrators feet who pay him 5$/day for that – he can lick my feet, LOL – i will pay him $50/day for that. A nice proposal to a fake poster – what do you think?
Last question from the lowlife Swatello -
He seems to be a really sub-IQ moron. After all the issues with ChokoPower, he suddenly fails to remember – how he insulted investors, suppressed their complains so as to scam more investors. He has some degenerated memory cells , i guess.
To answer his question and rejuvenate those dying memory cells – below I have posted the screenshots of Swatello's misconduct towards investors at the chokopower thread at hyipexplorer.
First Complain from investor Badran [Screenshot]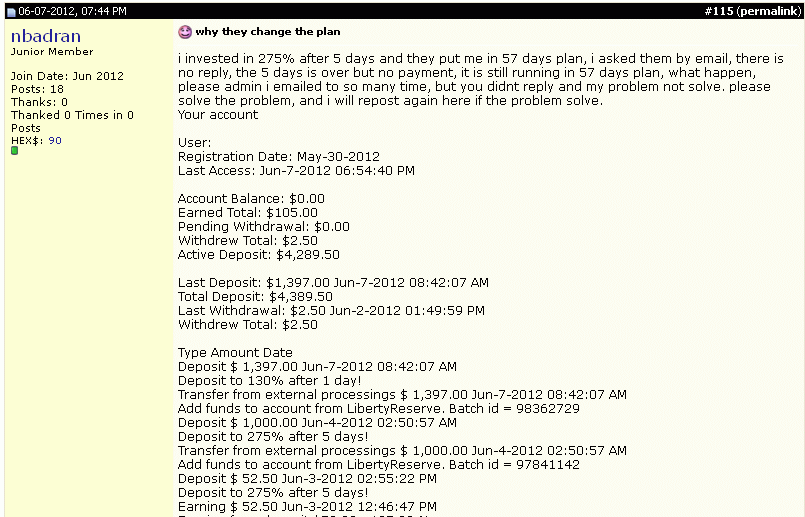 Comment from Swatello – after investor Badran's complains  [Screenshot] – if Swatello cared a single cent for investor Badran – he would have asked about his account information and tried to solve his problem. But alas he started trumpeting for chokopower admin – to suppress Badran's complain.
Another complain from investor kshs – exactly same issue as investor Badran.[The screenshot]

Check out this screenshot – look at how this swatello tells investor kshs , that many investors with deposit over $1000 are getting paid, just an attempt to suppress investor kshs's complains.

If these are not an attempt to suppress complains, insulting/abusing new investors – then i do not really know what can be called as suppressing complain and insulting new investors. Although, paid posters who have sold their soul to scammers for $5/day will surely be of low standards and moral values.
Screenshot of another 'fake paid poster' abusing investor kshs

One apt reply from investor Badran to these trumpeters. [Screenshot]
I guess, so many screenshots will be enough for all investor friends to understand how these 'group of paid posters' misbehaved with investors, and tried to suppress their complains, so as to scam more unknowing investors to join chokopower and get scammed.
About those 'Paid posters' its really hard to make them understand their wrongdoings, specially for those who have sold their moral so cheap [$5/day,lol]
Finally to end this artcle, unless this group of 'paid posters' mend their ways i will be after them, no matter how many cautions i receive. I do not give a dime.
Payouts For 20/6/12
NewGNi , Silver Structure, One Investment , PrimeXCash, DK Petroleum , MetalROI and Development Atlantic
Payouts From High Return HYIPs : aprofit.us , SolarINV and GlobalOilFund.
Others : JSS-Tripler

Games : Lottery Allworldhyip
New Program Joined :Invest Concept : Investment Plans – 10% daily for 15 days, 15% daily for 10 days, 1.5%-3% daily for 24-21 days . Accepted E-currencies – LibertyReserve, PerfectMoney, Payza, SolidTrustPay. Launch date – 15/6/2012 [Monitor Link]

USD Pips : Investment Plans – 12%-13% Daily For 10 Days . Accepted E-currencies – LibertyReserve, PerfectMoney. Launch date – 17/6/2012, payouts – manual, SSL encrypted, Ddos protected[Monitor Link]
Please check with our monitoring page before investing.
Share and Enjoy