Silver Structure has stopped paying. My withdrawal request is pending over 20 hours. I have received complains of pending payouts from investors. Please beware do not invest [Link]
Hi friends, Good Morning and a warm welcome back. Hopefully all are doing well with their investments and otherwise.
Well, it has been a mixed day yesterday. I had to demote one HYIP to problem status, due to pending payouts.
I will come to that in later section of this post. Firstly, Silver Structure [Review, Monitor Link] that was probably one of the three HYIPrograms that brought about the revival of the long term investment plans, this year, along with NewGNi and MetalROI.
Silver Structure launched precisely on 7th March has completed 4 months of online business. So far the performance of Silver Structure has been satisfactory, with regular payouts and no complains received.
An extremely professional approach, inclusion of all leading e-currencies, a controlled promotional measures are some of the important factors behind the popularity of Silver Structure.
Silver Structure management has issued one of the rare newsletters in the event of 4 month completion. The Newsletter is essentially promotional describing how the HYIProgram has progressed so far.
Silver Structure newsletter :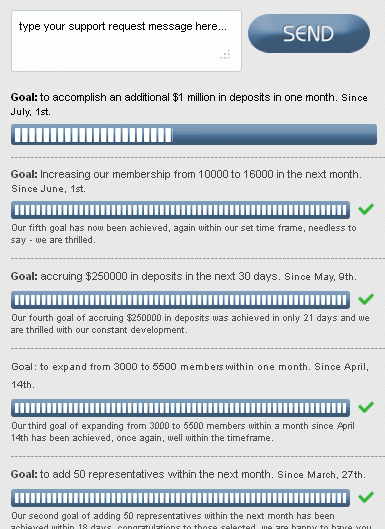 Dear members,
Today we are celebrating reaching 21,000 registered members of Silver Structure. In only just over 4 months of operation, this is quite an impressive feat and we are thrilled not only with that, but also that a large number of our members are already in profit and those who joined us during the first month are earning a 100% passive income by now. Approximately 80% of our members have chosen to reinvest their initial investment with us, and we see this a sign of trust, which we are quite proud to have achieved.
If we put together all main discussion boards where Silver Structure is listed, we would have over 10,000 positive forum posts and over 2,000 monitors positive ratings. This alone places Silver Structure among the very best available opportunities and concurrently we also achieved several number #1 program rankings on monitoring services. As you certainly know, being the number #1 program of the online investments industry is one of our main goals and we are not even half way there. Our membership more than doubled since the last time we sent you a newsletter, and so did our active trading balance, which is now more than $2,000,000. We do expect to reach at least ten million dollars in our active trading balance by the end of 2012 and even though some may say this goal is very and even too aggressive, we are confident that with our current growth levels, Silver Structure is going to make it.
We would like to thank a special group of investors who, besides being representatives, have also setup local community pages for Silver Structure, such as Face book groups for members from India, Russia and Thailand. We were very happy to see how hard some of you have been working and these pages will soon be listed in our representative's section. If you administrate one of these pages, kindly contact us so we can add it to our list. Also, as you may know, our representatives program is now full and we are only accepting new people, when an old representative leaves the program. However, if there are no representatives from a certain country, exceptions will be made as we are trying to have at least one representative from each country of the world to help us expand Silver Structure globally and provide dedicated support to all nationalities.
Our private forum has been gaining a lot of activity lately and we already have over 500 registered members and over 2,500 posts. It is a great way to get in touch with Silver Structure administrators and other investors, so if you are still not a part of it, we invite you to take a look at silverstructure.com/forum.
Once again, thank you for being a part of Silver Structure. Your success is what motivates us to provide a high quality service and work hard to achieve our goals.
Best regards,
Silver Structure Administration
Payouts For 12/7/12
NewGNi, ,Silver Structure,MetalROI, One Investment , PrimeXCash, DK Petroleum , Invest Concept , Ivecon , Development Atlantic and I-Can-Invest

Payouts From High Return HYIPs : aprofit.us ,PerfectROI , GlobalOilFund , Amanah and PinkMoney
JSS Tripler Update : My last two withdrawal requests to Payza has been processed by JSS Tripler .It seems the process of crediting daily earnings is not complete yet, as the 5% daily earning is still not being credited to all members. Hopefully, this process will be completed within a few days.
Games : Lottery Allworldhyip
New Program Joined :
GeniusROI : Investment Plans - 105%-130% after 1 day, 116%-200% after 3days, 127%-275% after 5days, 139%-370% after 7 days, Principal Return E-currencies – LibertyReserve, PerfectMoney. Script – Licensed Goldcoder's Launch date – 12/7/2012. payouts – manual, SSL encrypted, Ddos protected. [Monitor Link]

Share Trade Income : Investment Plans – 130% – 330% after 5 days, 180% – 500% after 10 days, Principal Return. Accepted E-currencies – LibertyReserve, PerfectMoney, Payza Launch date – 3/7/2012, payouts – Manual, Script – Licensed Goldcoder's, Ddos protected[Monitor Link]
Invest Concept HYIP has been demoted to problem status [

Monitor Link

]. My withdrawal request is pending well over 24 hours now.
Please check with our monitoring page before investing.
Share and Enjoy