Hello friends, Good Morning and welcome back. Hopefully all are enjoying the weekends with their family and friends.
I am a bit delayed today, in posting today's updates due to some internet connection problem. Anyway, that has been settled now.
Let us move with the first post for today, my close friend Richard Rossouw[Who had wrote the excellent article on on his plans of HYIP investment - HYIP Investment Case Study By Richard Rossouw (Guest Post)]
I have already contacted this cheap scammer with Richard's complains, but I have sincere doubts whether this administrator will reply to my support ticket.
You must have noticed, almost everyday some cheap HYIPs with short terms high return plans are being launched, which are advertising in a particular group of scam HYIP monitors, only to scam in less than 7 days. And probably the most disappointing aspect is still this group of scam monitors display paying status to these cheap scams.
Yes, you have guessed right PlayInv is one such program, that was heavily advertised in that particular group of monitors from the first day. And many investor friends noticing those large banners in those scam monitors deposited at PlayInv, only to be scammed in less than 7 days.
The complain was first reported by Richard at the 'Report Scam' section -
PLAYINV ???
Since I invested in this HYIP (PlayInv) on the 1 Jul (just as I saw a large NEW banner advert on a monitor site) I have not received a single (daily) payment yet. (Even though currently it has a PAYING status on 3 major monitor sites.)
I logged a ticket last night (5th) and shortly after got mail that I was paid.
"$4.40 has been successfully sent to your LibertyReserve account n/a. Transaction batch is n/a." I was suspicious about the "n/a" without actual references in the mail. So up till now nothing has been paid yet in my LebertyReserve account. Even worse is that the amount went from Pending to Withdrew under my account. I double checked my account info which is correct. This HYIP is only 9 days old and might be scamming big time???
My username with them is "ricros". Is it at all possible for HyipingMoney to investigate?
Well, although I completely believe Richard, I still requested him to provide the screenshots, so that i can place a support ticket at this site with proofs, that can establish the pending payouts.
Richard did not even waste a single day to mail me all the screenshots. You can check the screenshots of his pending payouts in the screenshot at the later section of this post.
My two Cents :
Friends , please beware there are many scam HYIP monitors that act in concert with the HYIP administrators and keep them in paying status and display their banners, even when the HYIP has stopped paying or paying only to those scam monitors and a group of paid posters.
Therefore, please before even considering HYIP investment, perform adequate research
Few tips :
1. Before investing in any HYIP discuss with friends, whom you believe.
2. Perform a Google search – to detect whether there are any complains or not.
3. Go through the forum threads – to check out any complains.
4. Check out the blogs/monitors you believe.
The Screenshots of the pending payouts posted By Richard :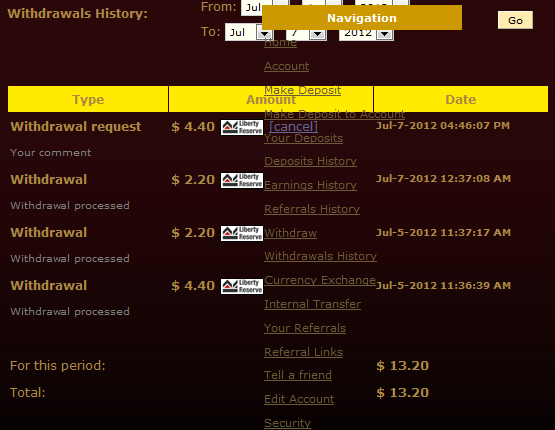 Payouts For 7/7/12
NewGNi, ,Silver Structure,MetalROI, One Investment , PrimeXCash, DK Petroleum , Invest Concept , Ivecon , Development Atlantic and I-Can-Invest

Payouts From High Return HYIPs : aprofit.us ,PerfectROI and GlobalOilFund and PinkMoney

Games : Lottery Allworldhyip
New Program Joined :
PinkMoney : Investment Plans – 104% – 125% after 1 day,122% – 200% after 5 days,150% – 400% after 10 days,1000% after 15 days E-currencies – LibertyReserve, PerfectMoney. Script – Licensed Goldcoder's Launch date – 1/2/2012. payouts – manual, SSL encrypted, Ddos protected. [Monitor Link]

Amanah : Investment Plans – 6.5%-7.5% daily for 20 calendar days . Accepted E-currencies – LibertyReserve, PerfectMoney Launch date – 3/7/2012, payouts – Instant, Script – Licensed Goldcoder's, Ddos protected[Monitor Link]
Besed upon the complains made by Investor Jack regarding his pending payouts, the short term high return HYIP, Neoprofits has been demoted to Problem Status [ Monitor Link] . Well, single selective payout by a HYIP is certainly the 'Surest sign' of an impending scam. There any investment at Neoprofits is not recommended.
Please check with our monitoring page before investing.
Share and Enjoy