MyTrafficValue demoted to scam status, my payouts are pending. I have received complain from fellow investor as well, who also has pending payouts. Beware of MyTrafficValue, Please do not Invest.
Hello friends, a very good morning and a warm welcome back for a nice little variation from the usual days.
I am absolutely pleasured with the fact that finally after requesting several times, my dear friend Gee has finally agreed to present the review of My Traffic Value. Let me put it bluntly, I am an admirer of Gee's writing style and enjoy his frank lucid way of expression. Well, i am sure you will enjoy this article as much as I did. On a serious note, I must admit Gee has explained almost every detail of the money making program – My Traffic Value in a simple uncomplicated manner. Please remember friends, Gee is a veteran investor with a many years of experience of investing in this 'High return segment of the money industry'
Gee has declined to provide his affiliate links for My Traffic value. Nor did I bother much to add my affiliate link. Thus there will be no affiliate links in this article. Apart from adding a few screen shots here and there, I have left the article untouched to preserve the naturality of the content.
All said and done, now let's sit back and enjoy the excellent review.
Investment Plans : 110% In 96 hours OR Daily Variable Percentage until 125%
Well, HyipingMoney almost made me speechless today. He wanted me to do a review of My Traffic Value.
Well, At first I thought he was pulling my leg. Me, writing a review?
Hahaha pull the other one matey, That's your domain, I just tell the odd silly story now and again, and that's it. And besides that, what would the Admin(s) of that program think about Hm letting an idiot like myself doing a review of their prog, eh?
Just how many visitors to this blog does he want to lose?
So I thought about it for a while, and thought, what the heck, give it a go….. Ok.
Bear in mind that I only know the basics of the program myself, so if you want to know about anything else you will have to find out for yourself, Ok?
Let's get one thing straight, I'm darned lazy, and I'm not going to do all the work for you, you have to be prepared to do some of it as well. And Hm is going to do a little bit as well, yuk,yuk……
Ok then, for better or worse, Orft we jolly well go for a walk-through of the basics……
The first thing I noticed was the apparent financial transparency of MTV. How many programs actually show that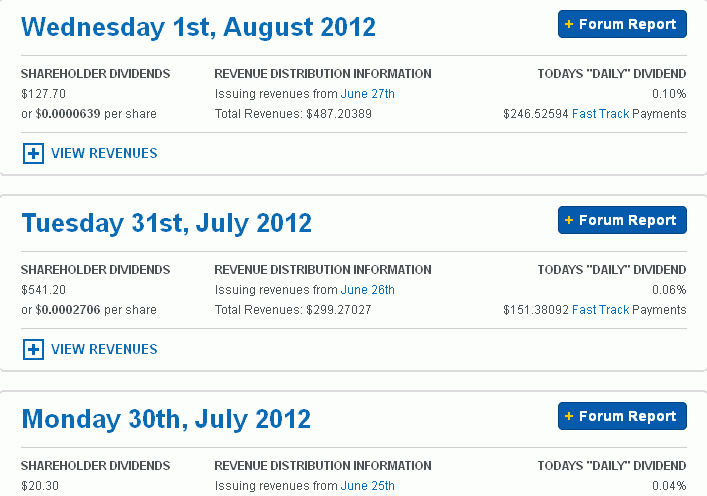 side of things?
What do you think? Are these figures real?
I don't know either, You just have to keep details like that in mind when you decide to join any program, so there's no change there.
Join or not, that's a matter for you to decide. Take your time. Do your own Due Diligence.
The first thing to do is find out which Payment Processors are allowed, and in this particular case, what each individual Processor allows you to participate in.
Namely, which Games, Investments or Advertising/MLM can be played with whatever currency
There are differences…. please study them closely before you choose which currency(s) are going to be the best choice for your needs.
This is the page to find out which PP's are available: http://mytrafficvalue.com/deposit_methods.html
Have a good look at them, and take particular notice of the Deposit & Withdrawl fees. You need to remember to add those percentages to your initial funding. You also need to remember that fees will be taken out of any money that you withdraw. Time for you to do a bit of mathematics. Get your calculators out.
One point I would like to make is that ALL of the games/investments, whatever you like to call them can be funded by Bank Wire,Hd – Money, Payza, Perfect Money, LibertyReserve & Western Union.
However, that is not the end of it yet. When I registered, The only choices available to me were LibertyReserve,Payza,Western Union & Bank Wire. I don't know if or when the other e-currencies shown on that page will be available, that's another thing for you to ask the MTV Admins.
Ok, let's assume that you like MTV so far and have registered and logged in and you are on the Main Page.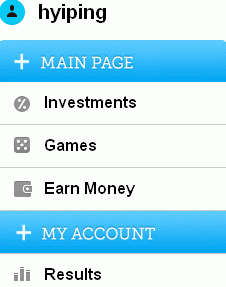 I suggest that you go to your settings to set your email preferences.
Scroll down until you see something in the centre column that looks like a credit card with 'Member' written on it, and a blue button with the words '+My Account' on it. Click the blue button.
The My Account Page appears. There are five tabs. Explore the options to see the information available, when you are ready, click on the 'Emails' tab to set your notification preferences.

All done? Ok, the next thing to do is Fund your chosen PP's accounts.
Now then Folks, This is where all the action starts. Are you ready?.
ADDING FUNDS:
Adding funds can be achieved in 2 ways.
1/ click on '+cashier', That's on the top blue bar, the first button on the r/h side.
2/ click on the centre large blue panel that says 1. Add funds. There is a White 'Cashier' button in there as well.

Is Everybody Ok so far? Good.
Once you have pressed one of those buttons, a new page appears. click on the middle tab that says 'Add funds'
Now, this is what I was telling you about earlier. When I registered, there were only 4 selections available. LR, Payza, Wu & Bw. It may be different in your area, I don't know about that, But I doubt if that is the case.
Okay. Now choose which PP's you need, continue doing that until you have funded all of the PP's that you require.
When you have done that, click on the 'Cashier' tab. You will see the balances of your e-currencies on the left-hand side, and the on the right-hand side is your withdrawal box. (I don't think anyone needs instructions on how to use that?…. Okay, Okay, I heard you the first time). At the bottom is a list of your PP's Deposits.
Ok, That's the funding done, Almost there, Now you need to invest. Go back to the Main Page.
Righto.
INVESTING:
There are 3 choices here. I'm going to show you 2 of them. In the centre panel is a white panel with the words 'Traffic Value Investment' and a blue button saying '+Invest now'
Just above that and slightly to the right is a large blue panel named '2. Invest' There is a White button with 'Invest' there.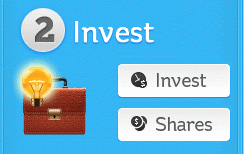 Those 2 buttons will take you to the next page. Click on either of those 2 buttons, and the page will change.
On the r/h side, you will see a blue '$' with a box to the right of that, followed by a blue button to the right labelled '+Invest Now'. Put the amount you want to invest in the grey box, click on '+Invest now'.
A pop-up box will appear. Check the amount, use the pull-down menu to select your choice of PP, Click the '+Invest now' in the pop-up box.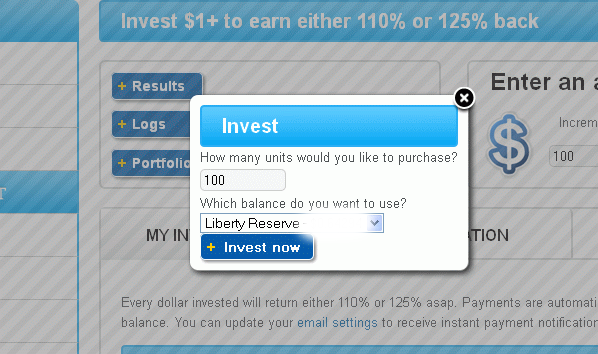 You have invested in the CURRENT round. Give yourself a pat on the back.
Below is a list of your 110% CURRENT Investments, Your 125%, & your Completed investments.
But, while we are on this page, I will take you through the other type of investment. This is called a 'Pre-Investment'.
These normally take place 2 days after a CURRENT round.Under the blue '$' sign are 3 tabs. Press the r/h tab called 'Advanced'
Okay things are going to get a teensy-weensy bit complicated here, so you need to concentrate.
There is a panel on the r/h side called 'Advanced Investment Form'
There are 3 buttons.
Button 1: '+Invest Now' into the CURRENT round.
Button 1 operates in the same manner as the INVESTING section explained above.
We can ignore that button for now.
Next please.
Button 2: '+Pre-Invest for the Next Round'
Insert the amount to Pre-invest in the 2nd grey box. Click button 2. Another Pop-up window will appear. The same procedure applies here as in the 'INVESTING' section. Check the amount & PP, click the blue button in the Pop-up window.
You have now Pre-Invested into the NEXT round which starts in 2 days time.
Give yourself a pat on the back with both hands this time.
Now, This is where the program gets a bit spicy.
Button 3: '+Invest $51 and 'Shuffle' the Queue'
Okay. If anyone feels reckless, and wants to throw a spanner in the works, they can invest $51 and force a 'shuffle' in the Queue.
This sounds pretty innocuous, but it's more than a shuffle, more of a mass walkout.
According to the FAQ's, (You have read the FAQ's haven't you? – NO??, Go and find them right now. You should have read them ages ago.)
http://mytrafficvalue.com/faq.html
I'll start again.
According to the FAQ's, this brings the feature 'QUEUE SHUFFLE' into play
Let me give you an example to explain this.
There are a number of people standing by the bar in a local public house.
A man walks in with $51 in his hand and says "Follow me, there's free drinks next door"
Everyone follows, has a great night out, comes back completely sozzled, and grabs the first available space at the bar, It doesn't matter whose space it was originally, It belongs to him now, and by golly he is going to keep it!

Until the next man comes along with $51 in his hand and says……………

That's what happens when you press that button. Absolute Chaos. According to the FAQ's this can happen EVERY TIME $51 is deposited.
You have now Pre-Invested. $51.
Pick yourself up off the floor, and give the person next to you a great big hug. You don't care any more, You have a new place in the queue. You are deliriously happy.
Well that finishes the basics of Investing into the Main Plan called 'Traffic Value Investment'
There is another investment you can go into.
SHARES:
The options for shares are pretty slim. You can either Buy them or Sell them. And before you ask, Noooooooo, you cannot sell shares if you do not own any !!
Therefore, as you are a new investor who wants some shares, you have to buy some!
They are pretty cheap, the current price is $0.61.
The returns are equally low. So, It's better to think of these shares as a long-term project.
The buttons for shares can be found in 2 places on the Main Page. Go to that Page.
1/ Click on the white 'Shares' button in the blue panel called '2.Invest'
OR
2/ In the centre panel, underneath the panel called 'Traffic Value Investment' is a white panel called 'Shareholders'
Click on the blue button called '+Marketplace'.
Both buttons take you to the 'Investment-Shareholders' Page.
On that page, there should be a tab called 'Marketplace'. If it isn't already highlighted, click on it. You should see a list of how many shares you own, Shares listed for sale, and User bids.
The middle block is obviously where you buy them, the bottom block is where to sell them.
If you opt to buy any shares, There is a short waiting period before your order is accepted.You will get an email acceptance if you have that option ticked.
I presume the same conditions apply for when you sell them.
GAMES:
These are quite simple to play, just insert the amount, press play, blah, blah…..
THE REST:
That deals with the actual Investing options.
Now, a little bit more about if/when any of your positions fall into the 125% plan.
These are extremely slow returns at the moment, but the Admins say that most of those positions will be fast-tracked in order to pay everybody concerned over a certain time period. We will have to see whether this time period improves or not.
ANNOYANCES:
Another slightly annoying item is in the Invest logs.
http://mytrafficvalue.com/investment/log.html
Here you can check the lists of rounds you are interested in, for most people that would be the current one.
So, put 15 in the grey box next to the blue'+View Log' and press the blue button.
Chocks away you can now search through the pages of people in that round, searching for your position(s).
BUT:
Do you see those blue page links just above the Blue Bar titled 'Daily payments until 125%?'
Sometimes these links do not work with a left-click. But they do if you right-click and select 'Open in a new Tab/Window'
They work if you do that. That needs sorting out, MTV Admins.
WHAT ABOUT THE OTHER BUTTONS?
I've done my bit, now it's your turn.
Go….. Explore….. Enjoy.
WHY THIS PROGRAM?:
I haven't the foggiest idea….
I'm usually very choosy when it comes to joining any new programs, So why did I choose to play this One?
I haven't got the answer to that question yet……..
It'll come some day.
Overall, this is one of the rare games that I liked the look of the first time I saw it. That doesn't happen very often. And the MTV Admins still have a few more ideas to implement yet.
It could be a nice little program by the time everything is running to their satisfaction. So go and have a good look at all the nooks and crannies of the site and see what you think of it.
There's plenty to look at.
Payouts For 2/8/12
Games : Lottery Allworldhyip
PrimeXCash

HYIP

has been demoted to problem status [

Monitor Link

], based on complains noted at MoneyMakerGroup and unavailability of the site.

Share and Enjoy