AP Energy Invest [Review,Monitoring], the High Yield Investment Program that has been one of the most stable performers during the 'infamous Black December, – the period that is known for fast HYIP scams] has been inaccessible in major parts of the world, for a few hours now.
Unlike other HYIP managements, its nice to see the AP Energy Invest management has published a detailed update regarding this downtime, in their Facebook Page. It certainly helps to bring some relief to the HYIP investors.
Initially i thought it to be a Ddos attack, as it is rather common occurrence in the HYIP industry, and is often practised by envious and competitor HYIP managements. Although, the AP Energy Invest administrator has informed, that it was a hardware failure that has been resolved and the site will be back soon.
You can read the update in detail below :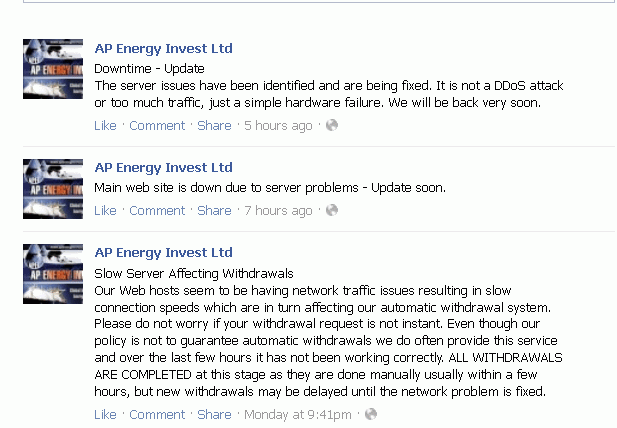 Please check with our monitoring page before investing.
Share and Enjoy